Restaurants & Bars
A sophisticated, gastronomic experience together with exquisite service. Spend a romantic evening to remember with your partner at our à la carte restaurants. You can enjoy access to the buffet where you will find a wide range of international dishes, and to the bars to savor a drink as the sun sets.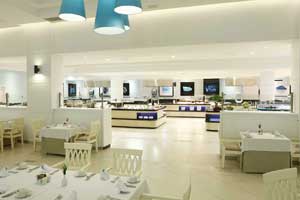 Main Buffet Larimar
International cuisine buffet
Savor a tasty meal and top-notch service in a fascinating atmosphere. . International - Formal dress code - Reservation not required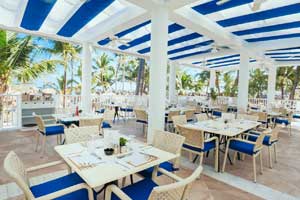 Beach Restaurant
International cuisine
Savor delicious meals and drinks while you enjoy the fascinating scenery. Come and try our exquisite culinary offerings by the seaside. International - Formal dress code - Reservation not required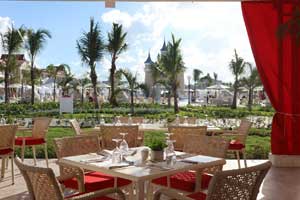 Pool Restaurant
International cuisine
Enjoy your meals and drinks by the pool, in an ideal setting for relaxing in the comforts of our hotel and savoring our rich and varied cuisine. International - Reservation not required
Á la carte Restaurants
Meal time is another moment to savor the Caribbean; to relax and enjoy exquisite dishes. There is no better place to share culinary experiences as a family. You will find the perfect atmosphere, with every detail taken into consideration.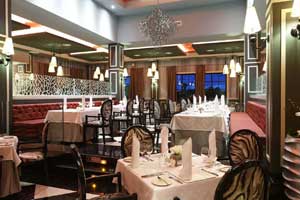 Le Gourmet
Creative modern cuisine
Experimental cuisine with a luxury twist. Try classic flavors mixed in a unique way in a romantic setting, ideal for enjoying an elegant dinner.
Gourmet - Formal dress required, long pants and shirt for men. - Reservation required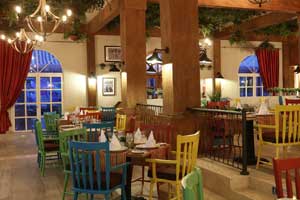 Garden Circus
Grilled cuts prepared to perfection
Meat lovers can choose from limitless combinations of grilled meats and tasty cuts.
Steakhouse - Formal dress required, long pants and shirt for men. - Reservation required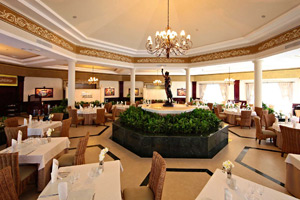 Don Pablo Gourmet
Exquisite French Cuisine
Share a romantic evening indulging in French delicacies including crispy truffles, lobster, and filet mignon. Reawaken your taste buds and romance as you enjoy a candle lit dinner together in paradise
French - Formal dress required, long pants and shirt for men - Reservation required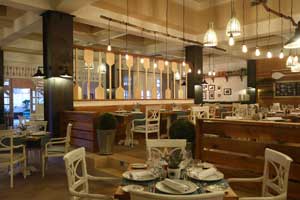 Il Paradiso
Cutting-edge Italian cuisine
Savor traditional recipes with a modern touch. Try any of our delicious dishes, which include lasagna, Florentine-style beef, and lamb chops in honey.
Italian - Formal dress required, long pants and shirt for men. - Reservation required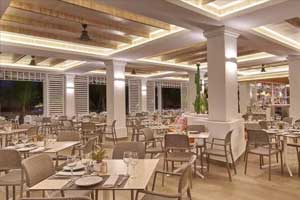 Tequila Restaurant
Traditional Mexican Cuisine
Taste the vibrant flavors fresh Mexican ingredients, as you enjoy the best Caribbean views.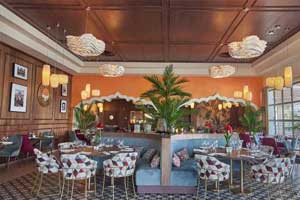 Thali
Indian Cuisine
Discover the flavours of Indian cooking in paradise. Exquisite dishes and an inviting atmosphere, an ideal opportunity to turn your dinner into a special evening.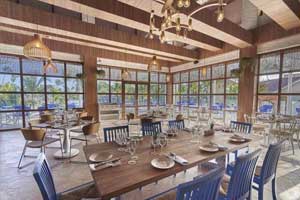 The Greek
Greek Cuisine
Sample the fresh vibrant flavors of Greece as you gaze upon the beautiful landscape of the Caribbean.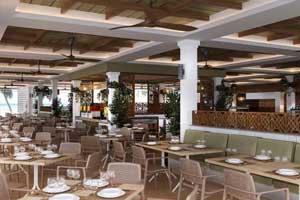 Rodizio Restaurant
Brazilian grilled meat served tableside
Take a trip to Brazil without leaving the beauty of the Caribbean: cooked meats served tableside paired with equally delicious sides.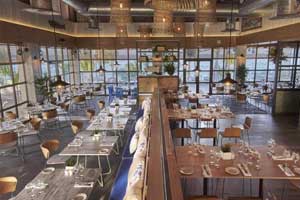 Fish Market
Perfectly prepared seafood
A taste of the sea. Experience the beauty of a freshly filleted fish and enjoy a meal with us in paradise.
Los Corales
Los Corales Dominican Restaurant
Get a taste of paradise enjoying all of the bold flavors we offer to you. Get a complete Dominican experience. Sample traditional dishes including fried plantains, spicy cibeño goat, and sanocho.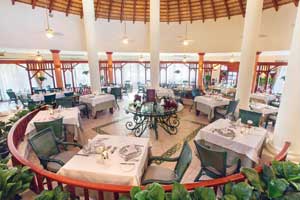 Garden Grill
Steak House
A meat lovers dream with endless combinations of perfectly grilled meats and savory sides.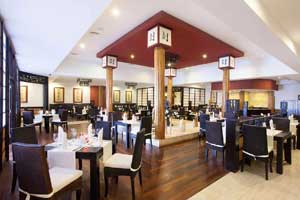 Mikado
Japanese Restaurant
Share a fun meal together. Join us for a traditional Tepanyaki dinner show, or a Japanese á la carte dish in regular tables and watch flavors come to life before your eyes.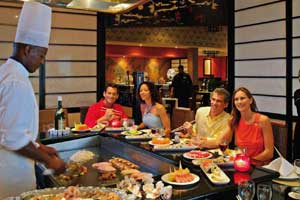 Maiko
Japanese Restaurant
Teach your kids the meaning of having fun with food. Watch flavors come to life as a delicious meal is prepared right before your eyes with a Tepanyaki dinner show or relax in à la carte regular table.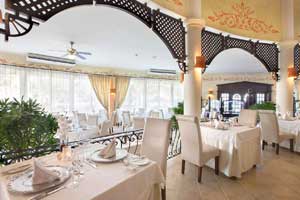 Capriccio
Italian Restaurant
Enjoy a traditional taste of Italy in the Caribbean. With each bite better than the last, everyone is sure to fall in love with our classic Italian creations.